Politicians create laws and bylaws. This is their role.
Enforcement of laws and bylaws is independent of politics. This is a fundamental principle of democracy.
The Mayor's comments in the media the past two days regarding bylaw graffiti enforcement did not directly violate this principle.
Mayor Horwath responded to a reporter's questions about a property standards order issued to The Hub by stating she wished bylaw would apply their enforcement efforts to other properties.
With Hamilton about to have an independent Integrity Commissioner beginning on November 1, this is a good opportunity to explain why most Ontario municipal integrity commissioners enforce a strict code of conduct when politicians comment about bylaw enforcement.
This is especially true when bylaw officers are enforcing provincial or municipal council policies.
Background
A few weeks ago, City Council unanimously passed a series of measures to address graffiti in the Downtown Core, including a new grant to assist property owners with the cost of graffiti removal.
"Through grants such as these, we can help business owners in the heart of the city who've experienced vandalism and graffiti keep their businesses clean and thriving. With a focus on enhanced cleaning service levels and safety, this is one of the ways in which we can demonstrate that our local businesses matter and that their success is critical to our local economy and tourism sector," Mayor Andrea Horwath stated on September 13, 2023.
Council added funding to the city's bylaw budget to increase property standards enforcement. This followed adding more litter collection crews and increasing public garbage bin collection in the Downtown.
In short, the City's bylaw enforcement officers are implementing Council policy direction.
Two weeks ago, bylaw ordered a well-regarded non-profit, The Hub, to remove graffiti on its building at 78 Vine Street.
The Hub's Executive Director, Jennifer Bonner, was angry with the order and took to social media to express displeasure.
Bonner correctly notes the graffiti has been on the Vine Street building for years, that the City is not following its own property standards and failing to maintain the public right-0f-way, and that removing graffiti is an added cost for the non-profit.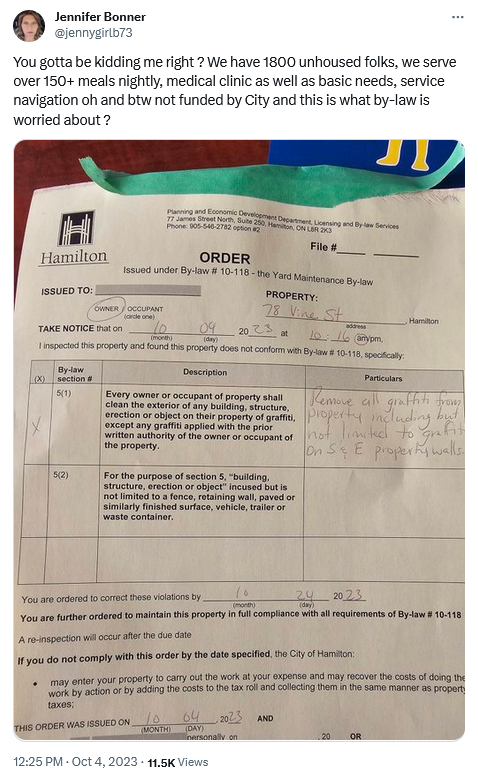 A reporter picked it up as a story, framed it as unfair, and contacted the Mayor's Office for comment about what they determined to be a bad decision by the City.
In this context, the Mayor told the reporter the City should focus its enforcement efforts elsewhere.
Following the media action, bylaw managers now state they regret their decision to enforce, and the City will assist The Hub to access the new graffiti removal grant.
The decision of bylaw managers to express regret for following policy, in an article where the Mayor is quoted as being critical of a specific enforcement decision, could gain the attention of Hamilton's new independent Integrity Commissioner.
This is a teachable moment, especially because Council members will be held to the Code of Conduct by the new IC.
Integrity Commissioners on the Independence of Bylaw Enforcement
Integrity Commissioner Guy Giorno wrote an extensive explanation of the rules governing municipal politicians' commenting upon bylaw enforcement.
In 2021, dealing with a somewhat situation – enforcement of rules upon an organization serving the homeless during COVID gathering restrictions – Giorno issued a formal caution to an Oshawa councillor.
The councillor wrote to the director of bylaw asking them to cease enforcement of COVID gathering restrictions for groups providing food to the homeless.
Giorno wrote the councillor's email constituted an attempt to influence enforcement and in doing so, the councillor violated the Police Services Act and the Municipal Act.
The full 119-paragraph ruling is here: Gobin v Nicholson, 2020 ONMIC 13 (CanLII)
I wish to highlight a couple of key paragraphs:
The independence of law enforcement officers underpins the rule of law.[13] Independence means that a law enforcement officer cannot be subject to political direction in deciding whether to lay a charge or whom to charge with an offence.[14]
The connection between municipal law enforcement officers' discretion and their independence from Council Members was explained in this manner in a staff report to Toronto City Council:Once officers determine the permitted tools, they use their discretion to determine the tool that will achieve compliance most effectively. Officers consider the seriousness of the violation, the impact of the violation on public safety, the likelihood of the person to repeat the violation, and the impact of the enforcement activity on business and community in Toronto. The decision to take enforcement action must be free from bias and political interference.[15] [emphasis added]
This specific issue was considered at great length by the British Columbia Ombudsperson, whose observations (in a 2016 special report) represent the most detailed review of the independence of municipal law enforcement officers in a Canadian context:… council establishes overall priorities for enforcement, enacts bylaws, and adopts bylaw enforcement policies and standards of conduct for bylaw enforcement staff. Council may also provide direction on types of bylaw enforcement issues. For example, council may direct its enforcement staff to prioritize enforcement of certain bylaws, or to issue warnings rather than tickets for specific categories of violations.

Within this framework, everyday enforcement decisions are delegated to staff. Defining and maintaining separation between council and front-line enforcement staff is essential to an administratively fair bylaw enforcement system. It is important for council members to be aware of how their own actions can affect the fairness of an enforcement process. This means that while council sets policy and provides general direction on enforcement priorities, its individual members should not become directly involved in enforcement action by directing enforcement against specific residents, groups or businesses, or by directing that enforcement action not occur in a particular circumstance. Rather, individual enforcement decisions should be made by delegated bylaw enforcement staff or contractors.

It can be difficult for council members to remain a step removed from the day-to-day enforcement process when they are a main point of contact for members of the public who have complaints or who have been the subject of enforcement. It is understandable that council members want to be responsive to the concerns of those who elected them. In such situations, it is certainly appropriate for a member of council to seek assurance that bylaw enforcement staff have fairly responded to a person's concerns.

However, even if motivated by good intentions, council members should not advocate either publicly or privately for a particular result in a specific case. Doing so can create the appearance of bias, particularly if council later hears an appeal on the same matter after bylaw enforcement action is taken. Moreover, any action by a council member that is motivated by favouritism or personal animosity toward an individual may be perceived as an improper use of discretion. Each member of council should strive to remain uninvolved in a specific bylaw enforcement decision unless and until the matter is put on the agenda for the entire council to consider.[16] [emphasis added]
---
Production Details
v. 1.0.0
Published: October 14, 2023
Last edited: October 14, 2023
Author: Joey Coleman
Edit Record
v. 1.0.0 original version