Unveiling the new Hamilton Public Library cards (and key fobs), a staff presentation on "BIBFrame, Open and Linked Data", adding hours at Waterdown and Turner Park, and increasing the budget for online book purchases are the highlights of December's Library Board meeting.
The meeting starts Wednesday at 6pm on the 5th floor of the Central Branch. (It is at the same time as City Council meets, TPR will be covering Council)
The full agenda is on the Library website.
New Library Cards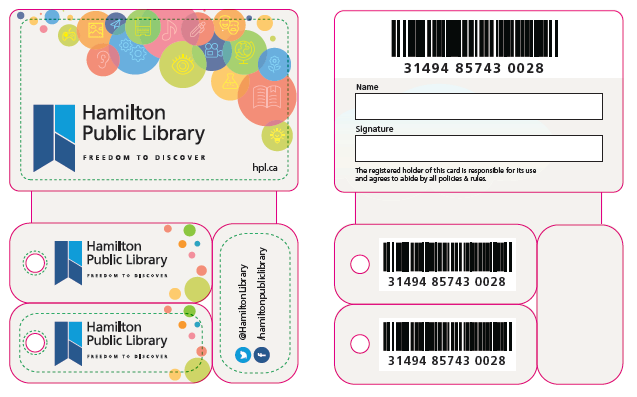 Staff will unveil the new library cards to the Board. They come with a new design, and offer the option of having a keychain fob.
New eBooks $50,000 Request
HPL is asking the Board to approve $50,000 from the Collections Reserve Fund to purchase eBooks from Simon & Schuster.
Staff state "Simon & Schuster became the last of the big 5 publishers to allow libraries to purchase their titles in eBook".
EBooks rights are purchased annually and this will need to be reflected in next year's budget.
Extend Hours at Waterdown and Turner Park branches
Staff are looking to expand hours at two locations: Waterdown and Turner Park.
With the new Waterdown location, it is proposed to add 4 hours each week, bringing the total weekly hours to 51. The new branch will be open Monday to Thursday to 10am to 9pm, and Saturday from 10am to 5pm.
Turner Park, which opened in 2009, is already the second busiest branch in the HPL system. Start wish to add 8 hours per week and open the branch on Friday's from 10am to 6pm. Overall hours will be 59 per week.
Digitizing Hamilton City Directories
Staff require $15,000 to complete digitizing archived Hamilton City Directories. This is the print phone book for those of us above the age of 30.
2015 Budget
The HPL already submitted their 2015 Operating Budget request following their November meeting. They are requesting an increase of $431,290 or 1.5% for 2015.