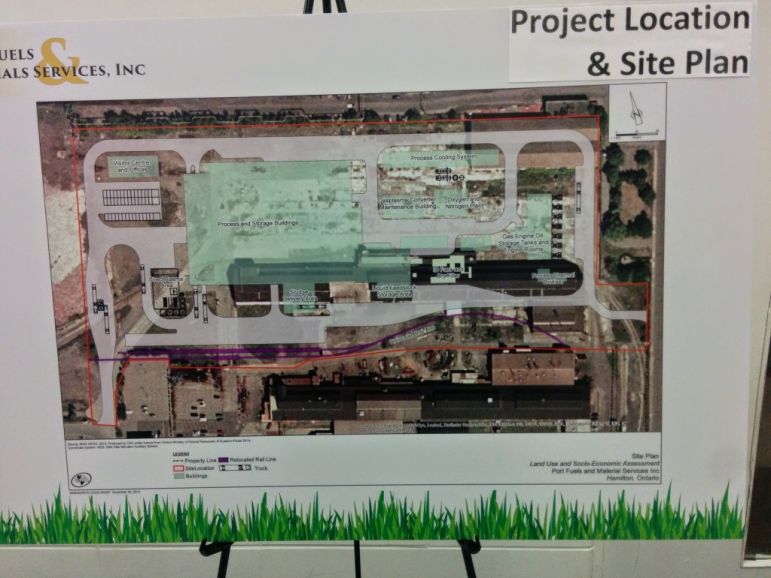 The second public meeting on the proposed Pier 15 Waste-to-Energy gasification plant was held at the Eva Rothwell Resource Centre in the Keith Neighbourhood Thursday evening.
Port Fuels & Material Services Inc, the company proposing the plant, was required to host the second public meeting.
The Hamilton Port Authority, which is landholder for the proposed site and a proponent of the plant, was not present.
The outcome of the meeting?


A lack of details numbers related to emissions, clarification that waste will be primarily delivered by transport truck, and many annoyed residents.
For the first time, a City Councillor confirmed the City's expectation that the proposal will result in a court battle between the City and Port Authority the City's "K" Industrial zoning and permitted uses.
The second open house was much like the first was a series of placards in a large room for the public to view and consultants from Conestoga-Rovers & Associates available to speak to.
The open house began at 6pm, with many residents arriving early and waiting in the hall, hoping to learn more about how the plant, to be located approximately two kilometres away, will impact their neighbourhood.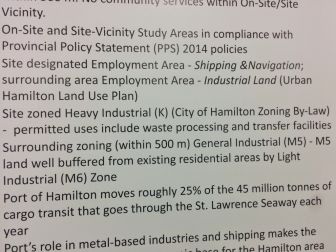 Residents were especially concerned about air quality impacts in a neighbourhood which is border to the east and north by Hamilton's heavier industrial zone.
As the evening progressed, some residents became frustrated by the lack of detailed numbers on the planned emissions of the waste-to-energy plant.
Bob Clark, Chief Operating Officer of PFMSI, stated they were not able to provide the detailed emissions information submitted to the Ministry of Environment for the open house.
Bob Clark states the emissions information will be posted on the PFMSI website in the coming months.
PFMSI's placards state their emissions studies show planned emissions will be below Ministry of Environment maximum limits.
Environment Hamilton Executive Director Lynda Lukasik says the information provided at the Open House didn't answer the key questions about the proposal, including a list of questions EH submitted to PFMSI months ago which remain unanswered.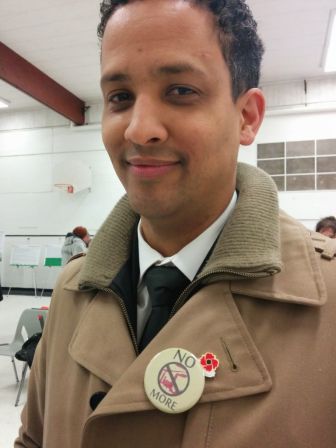 Councillor-elect Matthew Green (Ward 3) stated the open house was more about marketing than science.
"I see a bunch of registered trademarks," said Green, referring to PFMSI placards about GasPlasma® and Plasmarok®. "I don't see much science."
Green said the airshed of Ward 3 neighbourhoods is already stressed from pollution and more emissions were not acceptable. Green worn the new button of the campaign against the proposed plant.
Green stated leading opposition to the plant proposal will be his "top priority" upon assuming office on December 1st.
Councillor Chad Collins shared in the assessment of the open house, saying he wasn't seeing any of the details the community needed from PFMSI and feeling PFMSI was merely going through the motions rather than listening to the community.
"Maybe they believe it is easier through the courts instead of the municipal process," said Collins about the decision of PFMSI and The Port Authority to not meet with the City about a rezoning application.
"The City has offered to meet with them, they haven't returned our calls."
Collins noted that Bob Clark, during a delegation to City Council in June, stated he would meet with City staff.
Clark said PFMSI is working with the community, having created a community liaison committee and is following all processes required of the proposal.
It appears inevitable the proposal will end up in court as the City and Port Authority battle again over the rules governing port lands, and what exactly constitutes a use related to port and shipping activities.

What we didn't learn last night:
Environment Hamilton's list of questions: Executive Director Lynda Lukasik states the questions EH sent to Port Fuels & Material Services Inc have not been fully answered
The data from the environment studies – exactly what are the emissions and what amounts
What's next:
Provincial Ministry of the Environment to Issue its response to studies
Ministry to release the environment studies to the public
PFMSI to issue notice of completion of public process